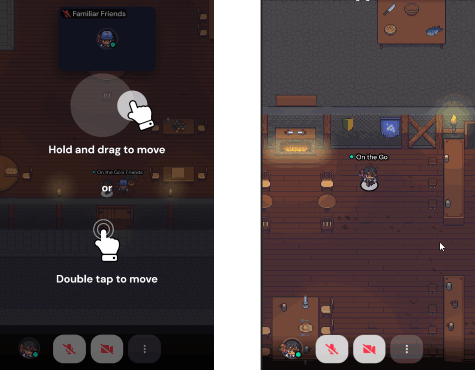 We're excited to finally announce our latest mobile updates! With this update, we've brought several features that were previously only available on our web app such as:
Toggling

Quiet Mode

on and off

(Not available in Remote Work Offices)

Adjusting your audio and video settings (you can now switch to your front-facing camera!)
Editing your name and character after entering a Space, and
Respawning (in case you get stuck or want a quick way to restart your journey!)
Stay tuned for additional updates! Note that at this time, object interactions and chat will only be available on the web or desktop app.
⛅ Sunsetting Gather-hosted Cocreate Boards
It is sad to say, but it is officially time for us to let go. On November 1st, all Gather-hosted Cocreate whiteboards will no longer be functional. Cocreate whiteboards may be found in older Gather Spaces (created before April 2021) and may look something like this:
If you have data stored on a Cocreate whiteboard that you don't want to lose, please save your whiteboard's contents as an .svg file using Cocreate's built-in tool. If you would like to continue using Cocreate in your Spaces, please create a new Cocreate board at
https://cocreate.csail.mit.edu/
and replace the embedded website link with your new board.
🦗 Less Flashy Updates and Bug Round Up
Improved server-side performance to fix the recent increase in lag for very large Spaces
Improved map loading times, most noticeable for very large Spaces
Added "no pinned messages" tooltip to Information Board in the Left Nav Menu
Fixed name and avatars to properly persist after Tutorial Island
Fixed poster "presenter mode" accidental teleport bug
Created "fatal error" messages to better identify where and when issues occur and prompt contacting us
Implemented a few large stability improvements!
That's all for now!
- The Gather Team