🔨Build Mode Improvements [Gradual Rollout]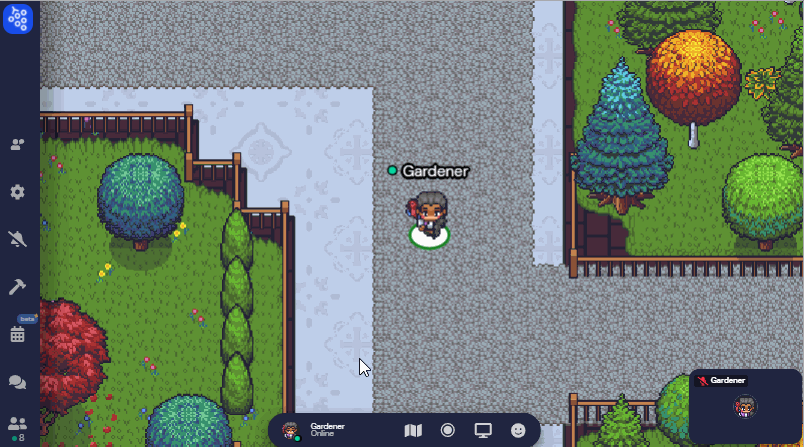 We're making it easier and easier to completely redecorate your entire Space on a regular basis! With this update to Build Mode we've added:
Off-grid object placement (You can still snap-to-grid by holding hold ctrl/⌘), and
An in-tab object searcher
Hopefully this will help you find objects faster and center them exactly the way you've always dreamed you could (without the hassle of opening the Mapmaker). If the default coloring/design for the object isn't quite what you were looking for, you can always dive into the Object Picker for our full range of options!
📱 Mobile In-Browser Improvements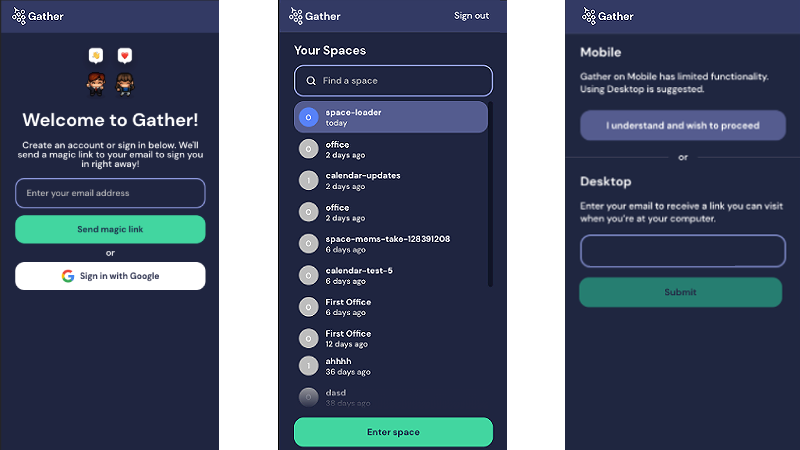 We are finally able to begin improvements to our mobile experience! We're excited to highlight a few of the preliminary changes to the mobile in-browser experience such as:
Redesigning the sign-in screen and adding dark-mode support
Improving how your Homepage (aka the /app page) displays
Updating the mobile beta warning to offer you the option of e-mailing yourself a link to the Space so you can enjoy the Best of Gather at this point in time
Adjusting Gather to allow displaying top and bottom navigation bars
These are the first in many, many steps to providing an overall better experience on Mobile devices. Unfortunately, as there is a lot to cover, work on mobile improvements may be much slower than most of you (and we) would like, but we are very optimistic about the outcomes!
🦋 Less Flashy Updates and Bug Round Up
New character picker rolled out to 100% of all Spaces
Rolled out one-time password to 100% of all users (no more magic links!)
Added a gorgeous new Space loading screen with % progress bar
Fixed Auto-idle-mute to not trigger when interacting with iframes/embedded website objects
Fixed accidently indicating an audio issue for some instances of muted microphones
Fixed A/V issues from over reporting during Remote Work Office Demo
Desktop App - Fixed error with mini-window sizing
Several client-side performance improvements
Cleaned up some backend code and inconsistencies
That's all for now!
- The Gather Team